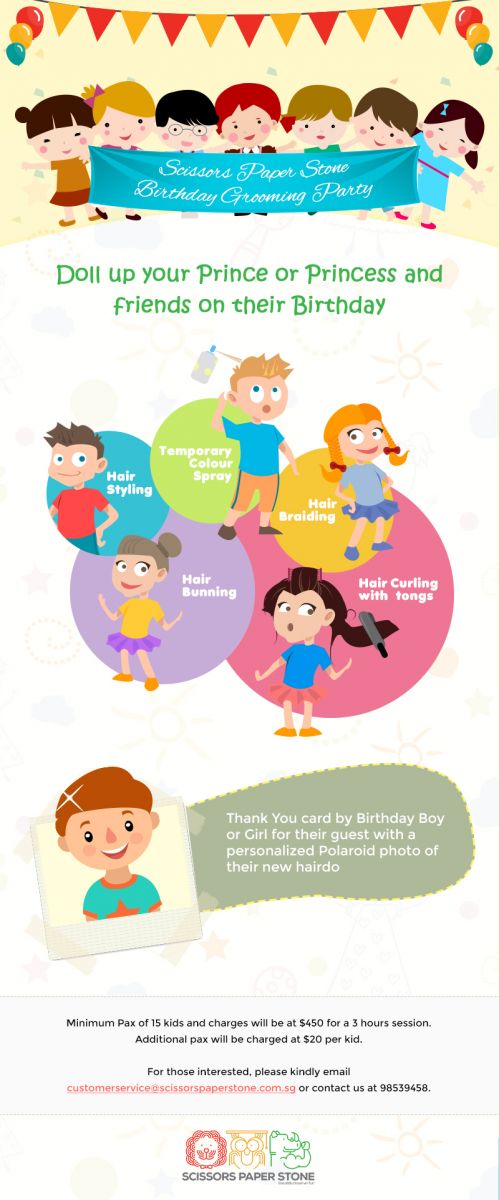 Scissors Paper Stone Birthday Grooming Party bringing pampering for kids.
Treat your child very special on his/her birthday by giving him/her a memorable birthday party at Scissors Paper Stone Kids Hair salon. What could be extra special and more fun than this!!
We will provide Hairstyling and grooming services to birthday boy and girls for their Birthday parties.
"Doll up your Prince or Princess and friends on their Birthday"
Services include:
- Hair Styling
- Temporary Color Spray
- Hair Braiding
- Hair Curling with tongs
- Hair Bunning
- Thank You card by Birthday Boy or Girl for their guest with a personalized Polaroid photo of their new hairdo
Minimum Pax of 15 kids and charges will be at $450 for a 3 hours session.
Additional pax will be charged at $20 per kid.
For those interested, please kindly email customerservice@scissorspaperstone.com.sg or contact us at 98539458.